Workshops
Savasana Concert with Leah Kline Trio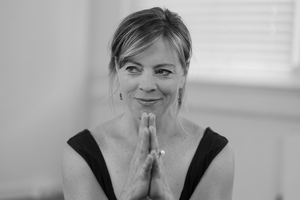 les wordt gegeven door
Léah Kline
Come join Leah Kline and her band at the Savasana Concert. Lay down and listen to music during this experience as you allow your body and mind to relax. Laying down and being one with the music provides your body to offer complete awareness of the experience. 


Music offers physical vibrations coming from the instruments that travel in waves and resonate inside your body, potentially shifting chakras and awakening sensations. The song offers words on the waves of music that can stimulate the heart and open up channels to higher vibrations of Oneness, Love, Gratitude, Joy, Happiness and Peacefulness. 


A Savasana Concert can also be a fun and uplifting alternative Saturday night out. Bring your own pillow and blanket if you want to. 


About Léah Kline

Did you already know our Senior Teacher Léah Kline has been a professional singer for the last 25 years?
Those of you who take her Sunday class are probably not so surprised as she regularly sings to you in savasana, and are familiar with the beautiful acoustics in Studio 1. Well, it's time again to turn on the music and Leah has agreed to offer another one of her relaxing Jazzy Savasana Concerts.  
"To sing to you. Is the greatest most vulnerable honor I have experienced to date. As you close your eyes and I mine. I can feel the space, feel my heart. I sing this December with two wonderful jazz musicians who are feeling the same.
The repertoire is easy listening, jazzy and heartfelt. Link the songs in a very relaxing way. " - Leah


Reactions - Effects of a Savasana Concert! 
'Heel Mooi! Rustgevend. '
'Prachtige klanken cadeau van mijn lieve dochters!'
'Special! 
'From the heart, for the heart and straight into the soul. Thank you'
'A beautiful evening'
'Heerlijk om hier aanwezig te kunnen zijn en weg te dromen'
'Wat een prachtige ervaring. Niet positief, niet negatief, het was gewoon, zonder perceptie van tijd. Dit zal me nog lang bij blijven'
'A super relaxing concert'
'Still trying to find the words. I really enjoyed it.'


Livestream
You can also participate in this workshop through livestream and flow this concert from the comfort of your home for €12,50 .

This workshop will be in English.


Datum: Saturday the 11th of December 2021
Tijd: 19:00 - 20:00
Prijs: €20,-)
Plaats: De Nieuwe Yogaschool, Amsterdam

NB: Om dit concert bij te wonen dien je in het bezit te zijn van een vaccinatiebewijs, een herstelbewijs van COVID  19 of een negatieve testuitslag van maximaal 24 uur. (testenvoortoegang.org).