Workshops
Yoga & the Chakra System with Moena de Jong - 2x 10 uur training: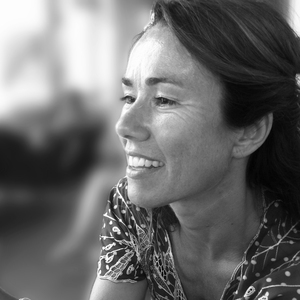 les wordt gegeven door
Moena de Jong
What? 
In this new 2 days Study you will enrich yourself with the experience of Hatha yoga with  an intelligent build up in the physical and energetic body.  
Hatha yoga includes all yang forms of yoga; Ha stands for Prana, THA represents the  mind. When the 2 forces unite, there is awakening of higher consciousness.  Yoga practice brings our awareness from the gross layers (physical body) to the subtle (the  energy body). This is where we can remove energy blockages and accumulated  boundaries. We have many Chakras in the body yet we mostly speak of the 7 (biggest)  Chakras (energy wheels/vortexes) when we practice to purify body and mind from deep  rooted foot prints from the past. Or put in other words: that what we could not get rid of  in our system.  


How?   
All Chakras have a relationship with a specific Asana group, an element, a Mantra and a  Deity (Divine quality).  
You will learn how to create your Asana sequence (also which you can integrate in Flow  practice/teachings) in such a way that imbalances and obstructions in the subtle body will be harmonised/removed.  
All layers of the body will feel as a perfectly fine tuned entity.  






What will you learn?

- You'll deepen your knowledge on the Chakras and the Chakra system  
- How to create a step by step systemised script for your practice to harmonise the 7 energy wheels  
- Modifications of more advanced poses in line with the vortexes  
- The richness of knowledge on the Yantras (symbols related with the Chakras)  
- The Beeja Mantras which relate with the elements and Chakras and their effects  
- Philosophy of the Deities  


For whom? 
All yoga practitioners welcome with interest in deepening their spiritual practice on  physical, mental and energetic levels.


This workshop will be held in English
Date: 18 and 19 November 2021
Time: 10:00-17:00
Price: 230,00
Location: De Nieuwe Yogaschool