Workshops
Advanced study (50 hr): Enrich your Flow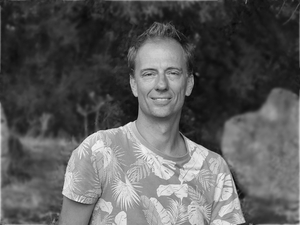 les wordt gegeven door
Simon Rowe
Advanced Study (50 hr): Enrich your Flow with Simon Rowe
Creative sequencing, embodied philosophy & sacred practice
Enrich your Yoga practice, learn to create powerful and transformative Flow sequences. Explore creative namaskars and sequencing pathways to move deeper into the ritual of embodied Flow practice. Practice and learn to teach challenging intermediate poses in a way that is safe, smart and suitable for all students. Dive into multilayered sequencing and learn to integrate all aspects of the 8-fold path in beautiful seamless soulful flows.
Explore the synergy of Yoga & movement in vibrant sequences that deepen your experience of Flow as a form of meditation in movement.

Intermediate poses - Smart Safe & Suitable for all
Challenging Yoga poses are more than gymnastic tricks for the sake of showing off. Learn to inspire others to go beyond their comfort zone, to excel and shine! Study the poses as energy maps that unlock energy to awaken us to our full potential and excel our evolution on the Yoga path.

When teachers feel the fear and resistance from their students they often exclude difficult poses from the classes. Simon offers this definitive method for teaching intermediate - advanced poses accessible for students of all levels. Learn how to shift your focus from physical alignment to energetic alignment. Share the thrill that is the energising and liberating effect of attempting these poses. Have fun with the poses in a way that is 'Smart, Safe & Suitable' for all your students to enjoy.

Creative sequencing
Learn Radiant Flow namaskars and transformative sequencing pathways to move deeper into the ritual of embodied Flow practice. Study creative pathways for integrating movement into the flow of yoga practice. Deepen your experience of Flow-based Yoga practice as a form of meditation in movement. Learn to create multilayered sequences that integrate all aspects of the 8-fold path in seamless soulful flows.

The Radiant Self
Go beyond the idea of Yoga as merely a system of relaxation and meditation.Discover and share Yoga's capacity to transform us, to ignite in us the passion for LIFE! Deepen your studies, explore the the Life-changing Tantrik Yoga teachings on the Radiant Self. Study Bhakti, the Yoga of selfless love, learn to follow the way of your heart through sacred activism and selfless service. Embody your unlimited Radiant Self to live your Love and embody your Freedom.

Teachings and workshops in this training:
• Radiant Flow masterclasses to deepen your own study & integration
• Learn Radiant Flow Namaskars
• Krama, key actions and energetic alignment of Intermediate poses
• Modifications and variations of asanas
• Creative & circular (mandala) sequencing pathways
• Yoga Movement Synergy in creative Flow sequencing
• Shatkriya techniques for energetic activation & deep cleansing
• Sacred Practice - integration of mantra, mudra and meditation in sequencing flows.
• Integrating advanced Pranayamas and dynamic breath-work in Flow
• Integration of the 8-fold path in Radiant Flow sequencing.
• Historical and philosophical foundations of embodiment & the Radiant Self.
• Bhakti studies, sacred activism and selfless service (seva)

What you will receive:
‣ Printed module syllabus and workbook
‣ Workshops and masterclasses to deepen your study and embodied integration.
‣ Online resources, videos and support.
‣ Certificate of attendance for attendance of all sessions.
‣ Certificate of completion ( includes successfully completed assignment) for working toward
‣ Radiant Flow certification or other Yoga Alliance registrations

Program
Simon will teach daily masterclasses for your own experience of the effects of energetic Vinyasa practice. There will be time for working in partners and groups, as well as for in-depth analysis and discussion. This module is suitable for both teachers and practitioners

About Simon
Want to know more about Simon Rowe? CLICK HERE> for his resume.


Module certification options:
 - 
Certificate of attendance
Students who attend all training hours of the module will be awarded a certificate of attendance.
Thi certification option will not be suitable for students working to 300 hour or 500 hour Yoga Alliance certification.
- 
50 hour certificate of completion
Students who wish to qualify for full 50 hour certification are required to complete and deliver a project as specified by the teacher. This will be either a video or written project depending on the module.

After delivering the project, students will be invited to have an evaluation either live or by video conference.
This will be in a group or personal meeting depending what the teacher decides. Final certification will be agreed during the evaluation.
Radiant flow certification program 2x 50hr  

This program consists of 2 x 50hr studies (100 hr in total) that can each be done independently. Want to know more about this program and certification?
Click here >

Special discount
Students who will be following the full program will get a 
10% discount
. Please send an email to
administratie@denieuweyogaschool.nl
 if you want to attend both studies so we can send you the invoice directly. Click 
here
 to read more about Radiant Flow!
As soon as we have received your payment, your place in the training is definitively reserved. Please read our
terms of agreement
to make sure you are aware of all the details concerning your transaction?
Do you want to combine your Advanced studies for a 300 hr Yoga Alliance certificate?
CLICK HERE>
for more information.

This course is in English.


Schedule:
Thursday: 09.30 A.M - 5.30 P.M
Friday: 09.30 A.M - 5.30 P.M
Saturday: 12.00 A.M - 07.00 P.M
Monday: 09.30 A.M to 5.30 P.M
Tuesday: 09.30 A.M. to 5.30 P.M
*Note: Sunday is a day off 
Dates:
Thursday April 8th until Tuesday  April 13th 2021
Price:
€ 525,- ex VAT / € 635,25 inc VAT.
Place:
Amsterdam, De Nieuwe Yogaschool