Workshops
Vinyasa yoga & the Element of Water Workshop with Moena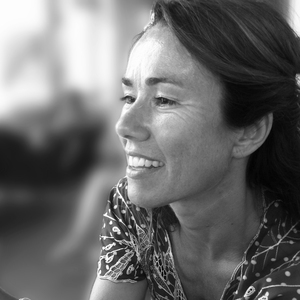 les wordt gegeven door
Moena de Jong
Welcome to the Vinyasa Yoga & the Element Water workshop with Moena de Jong!

Yoga practice is a very grounding way of providing accommodation for the functions of our mind and ego.
Throughout the practice we are able to pay attention to the impulses and feedback we get from the outside world.

As the inner view gets more clear we can balance all the input that comes in through the senses (smell, taste, sight, touch, hearing) which relate with the 5 elements : earth, water, fire, air & ether. Bringing the outer & inner world together in balance, helps us to understand our desires, habits and aversions. It brings us in the present moment at which point we are in harmony.

The 5 elements are interdependent transformations of consciousness, matter & energy. They occur in the outside worlds but also inside of us. Each perception or sensation we experience is made out of a pattern of the 5 elements. Due to life's circumstances and the constant changes the effect is felt even in the most subtle form as the elements get out of balance. By understanding the qualities and relationships of the elements and recognise the effect of all of life's impulses in our inner world can bring harmony in body & mind.

About the workhop

This workshop is part of a 5-week workshop course, which can also be followed seperately. Every workshop will be based on Vinyasa Yoga related with a specific element, through intelligent sequencing, we'll build up towards a peak pose with modifications. Philosophy on the elements will be interwoven to understand yourself and your spiritual process better. Pranayama and Mantra are always included to clarify and illuminate our energy body.

WORKSHOP 2 : WATER | HIP OPENERS - THE PLAY WITH FLUIDITY
Friday February 26

Water (Jala) is representative for a downward, contracting flow and corresponds to the sense taste. It describes the external movement of water in the outside world as well as of downward, waterline movement inside. Water has a rinsing, purifying quality.

In Asana practice hip openers stimulate the natural quality of water; which is fluidity of body & mind.




Click here for workshop 3: Fire - Friday March 26

This workshop will be in English.

Dates: Friday February 26, 2021
Time: 18.30 - 20.30
Price: €25,-
Location: De Nieuwe Yogaschool, Amsterdam