Workshops
Advanced study (50hr): Hands-on Adjustments + 50hr Teachers Assistant Internship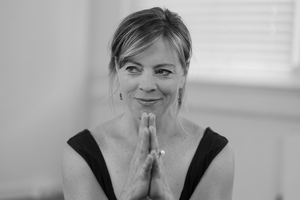 les wordt gegeven door
Léah Kline
Do you have a 200+ hour Vinyasa Teacher Training under your belt, and do you feel the need to develop yourself further in the craft of 'Teaching and hands-on adjusting & assisting'? We are excited to announce our newest 50 (or 100) hours Advanced Study: Hands-on Assists/Adjustments Intensive &Teacher's Assistant Internship.
Under the guidance of Leah Kline and 5 guest faculty members of DNYS you will learn the necessary skills/tools to take that next step. The study is a 14 masterclasses comprehensive of Hands-on Assists/Adjustments intensive (3 weekends) giving practicing Teachers time to digest and practice their skills. Plus an option to become a Teacher's assistant (5 to 6 month TA internship spot (optional) at the school mentored by a Senior Teacher.
The internship is (a ''stage plek") where you are coupled with one of our Senior Teachers who will support you practicing skills of Observing, Assisting, Hands-on Adjustments and working in the field of study as a yogi (approx 20 lessons). The mentor offers their skills as a karma yoga project and so we take great care to make the right match with those who go on to become Teacher's Assistant.


This program contains:
*14 masterclasses(3 weekends)(Hands on-Assists/Adjustments intensive) - 50 hr Yoga Alliance
**An optional internship ('stage plek') for 5 to 6 months, once a week (around 20 classes) + Essays - 50 hr Yoga Alliance (in combination with the 14 masterclasses it's 100 hr YA)
During the TA internship you will be paired with one of our Senior Teachers (who has agreed to take on an Assistant) who will support you practicing the skills your learn in the workshops, Hands-on Adjustments and working in the field of study.
To be part of the 100 hour YA Teacher Training Assistant internship, we ask you to additionally submit an email to (Leah Kline and DNYS):
- yoga4all-amsterdam@telfort.nl
- teachertraining@denieuweyogaschool.nl


Include the following:
1. proof of your 200+ hour TT certificate ( scanned copy)
2. A written reference or referal from a recognized Yoga Teacher to be considered for a TA internship (only if you did not completed the Johan Noorloos Teacher training, but acquired your 200 hours elsewhere).
3. As short letter of interest: expressing your readiness to embrace the commitment and attitude of a weekly lesson and to the students and community with your service.
4. Is direct payment not possible but you would like to reserve your spot for the training and/ or to inquire about making 2 payments? Then include this also in your letter.

**Note: it could be that we invite you for a personal conversation

DNYS and Faculty will place each intern after the second weekend. The School will pair the new Assistant with the appropriate teacher, according to the intern's level and needs. Workshops cannot be skipped if the student wants to apply for the 50 hours YA.
Faculty: Leah Kline with Anita Smith, Liisa Ruusman, Marlene Henny, Moena de Jong, Carine Goekoop (English and Dutch languages)


Masterclasses of Hands-on Assists/ Adjustments include:
1. Philosophy of Assisting, Ethics, Role of Awareness, Presence, Breath
2. Touch and the ethics, types of Touch
3. Types of Students. Non verbal communication
4. Alignment Basic Manual Adjustments Feet, knees, Hips Spine Standing poses
5. Basic Manual Adjustments Spine Shoulder elbows Hands
6. How to support beginners (in a basic flow class and mixed level class)
7. Assisting in a Flow "choreography of assisting"
8. Seated poses, Grounding
9. Finishing Poses Assists
10. Advanced and Strong Flow Assists ( Binding, twists, hand balances)
11. Perception of the student "How to read the body and give the most effective assist in that moment
12. Ashtanga philosophy applied to Adjustments; observing, bandha's and breath (twists,shoulder arm holds)
13. Assisting for injuries / props
14. Intervision

Schedule:
Dates of the 14 masterclasses (3 weekends)
20, 21, 22 September
*4, 5, 6 Oktober 
8, 9, 10 November 2019

Times:
Friday: 18:30-21:30 hr
Sat & Sun: 12:00-19:00 hr

*Friday October 4th: 19:00-22:00 hr 

Price: € 695,- ex VAT / € 840,95 inc VAT.
* It's possible to pay in instalments. Send an email to administratie@denieuweyogaschool.nl
As soon as we have received your payment, your place in the training is definitively reserved. Please read our
terms of agreement
 to make sure you are aware of all the details concerning your transaction?

Teacher's Assistant application to Leah Kline: Yoga4all-amsterdam@telfort.nl and CC: teachertraining@denieuweyogaschool.nl


If you have any additional questions, please send an e-mail to teachertraining@denieuweyogaschool.nl.
Do you want to combine your Advanced studies for a 300 Alliance certificate? CLICK HERE> for more information.

This course is in English (most teachers are bilingual)