Discover who is Anita Smith's great furry Guru!
It's November, days are getting shorter, nights are becoming longer, the cold and rainy days are just around the corner & that means … Yin time. Time to ground, to balance and to turn our energy inwards. Time to let go, slow down and have a conversation with our inspiring and lovely yin teacher Anita Smith for whom her four-legged pet appears to be the largest inspiration in keeping her Zen.
I never have to wait long for an answer from Anita via email. Only this time… "Hi Sweetheart, I actually completed this a couple of days after you sent it and then completely forgot about it! Sorry, I have been abroad and also Whiskey hasn't been so well, so I've been spending more time with him". I think this email represents Anita perfectly. She's not really into computers. "I'm really not any good with them. And for about two months, whenever I had a moment between teaching yoga classes I was sat behind the computer compiling my workbook for the Yin Teacher Training. My body massively protested!" Originally a ballet dancer and a yogi at the age of 20, an office job didn't interest her. She's also not a fan of smartphones. "I have a super old school Iphone 4S! I feel that phones are just another distraction aimed at keeping our consciousness down with all the 'anti' social media. It's quite funny, my phone is so old it only has 3G and I received a message from my network supplier that it will stop working on January 1st, 2020. Looks like I will have to step into the modern age however I will keep my usage at a minimum, only using it for necessities when away from home. I also use Energydots to help reduce the harmful impact of radiation.




To return to the e-mail I received from Anita, beside the fact that she's not a techie, and she's a sweetheart herself, her dog Whiskey plays the biggest part in her yogi life… Okay, before we move on, we have to explain the name of the dog. Whiskey was 5 months old when Anita got him from the breeder. "Because of his fur colour and because he was used to the name I decided to leave it as Whiskey. It's funny because the breeder doesn't drink alcohol but all her dogs are named after alcoholic drinks - Chablis, Zinfandel, Rye, Whisky (Whiskey's grandfather)." It's even funnier when Anita talks about Whiskey and the listener doesn't know she's talking about her lovely dog. "When I started teaching at DNYS I had a break between teaching classes and I told Marijke I was going to the park with Whiskey. She gave me a very strange look and I realised I had to explain that one! Haha! I quite often have to explain Whiskey is the name of my dog, I'm not an alcoholic who loves Whiskey!" Okay, back to the story. So, way before the lovely and lucky Whiskey arrived with the Smiths in Amsterdam, Anita was already an avid yoga practitioner. Anita fell deeply in love with yoga and still does every time she steps on her mat, just as she did that first time back in 1996. And with a desire to help people feel better, become more aware of their true nature and connect to it she decided to become a yoga teacher! 
''I quite often have to explain Whiskey is the name of my dog. I'm not an alcoholic who loves whiskey!''
Anita is a British Wheel of Yoga accredited teacher. And it's all in the name, because it will therefore not surprise you that Urdhva Dhanurasana, also known as upward bow pose or wheel pose, is her favorite asana ;). "I LOVE LOVE LOVE heart openers as they connect me to and ignite my inner joy and happiness, I always feel so much love and happiness streaming through me and pouring out of me when I do them! Everything is wonderful after a good heart opener no matter how I felt beforehand." And yes, she shares her peaceful, positive energy, because you would never come out of her lesson without a smile on your face.
So, we are curious. Who is Anita's guru? And instead of Rama Krishna or Sri Sri Ravi Shankhar, how different could it be, she said laughing that her dog is her biggest guru who taught her that every day is a new day and a wonderful opportunity to start again, no matter what happened the day before. "He's taught me to be, not do". Oh yes, we are all watching a lot of pet videos with puppies creating havoc at home or other kinds of cuteness overload, but a four-legged guru? "Yes! Although I have had many incredible teachers throughout my 23 years of practicing yoga, my dog is my biggest and best teacher of all time! He's taught me to stay calm - you can't get upset and angry when you have a dog beside you as they see and feel everything and get upset too. Therefore, when I am deeply tempted to get upset all I have to do is look at him and I remember to take a deep breath, let it go, let it flow and shake it off! He's also taught me unconditional love, pure love with no expectations or conditions."

''Everything is wonderful after a good heart openener no matter how I felt beforehand.''
And yes, her dog is also part of her morning routine. Every morning she starts the day by joining her dog in his basket.
"It's huge!! I take time to 'be' with him"
. In the past she used to sit and meditate by herself.
"I follow his breath rhythm and it also allows us to connect. I find it's a beautiful way to start the day! Plus, both he and I don't like getting up early anymore"
(So you understand that it is no coincidence that Anita's lessons often take place in the afternoon).
"This gives us a little more time in the morning before the day starts."
But there is another man in the Smith household. Beside Anita's cool dog Whiskey, there is also her husband who can best pass for a guru! "In the morning, my husband usually makes a biological smoothie with oat milk, oats, bananas, pumpkin seeds, almonds and some kind of berry and super-food! We all take Indium to help balance our hormones and shots of Nano minerals such as Gold. I then take my dog for a slow and mindful walk, feeding him his biological food when we come home. And then my day starts with planning classes, self-study, basic administration, other regular 'life' stuff and occasionally thinking about what's for lunch!" And this is the other passion apart from yoga that keeps her Zen…. food! "I did train as a chef many years ago." Lucky husband!
''He's taught me to be, not to do.''
So, what do you cook for dinner tonight Anita? "We love Asian foods and flavours and tonight I cooked a 'Bang bang no chicken salad'. At least that's what we call it! It's a Vietnamese salad which we have made vegetarian/vegan. It consists of grated carrot, cucumber, bean sprouts, finely sliced spring onions and lettuce with a homemade spicy peanut sauce. It's so delicious! We only eat biological food at home to reduce the amount of chemicals and toxins we put in our body. Tomorrow we will make a 'Laab salad'. A traditional Thai herb salad in which we have substituted the meat for tempeh. Again, an explosion of flavours! Lucky, I teach enough yoga so I can indulge in my other passion.

And after dinner? The family will probably all curl up in Whiskey's bed and take some time to be, not do. This is the most inspirational and important lesson we receive from the Smith family.  "No, it's the great advice from the furry guru! Be a human being, not a human doing!"
Over de auteur:
Sophie van Oz. Een Drentse yogi, journalist en zangeres met een bijzondere interesse in (yoga)filosofie die niet zonder haar dieren kan. Instagram:
@sophievanoz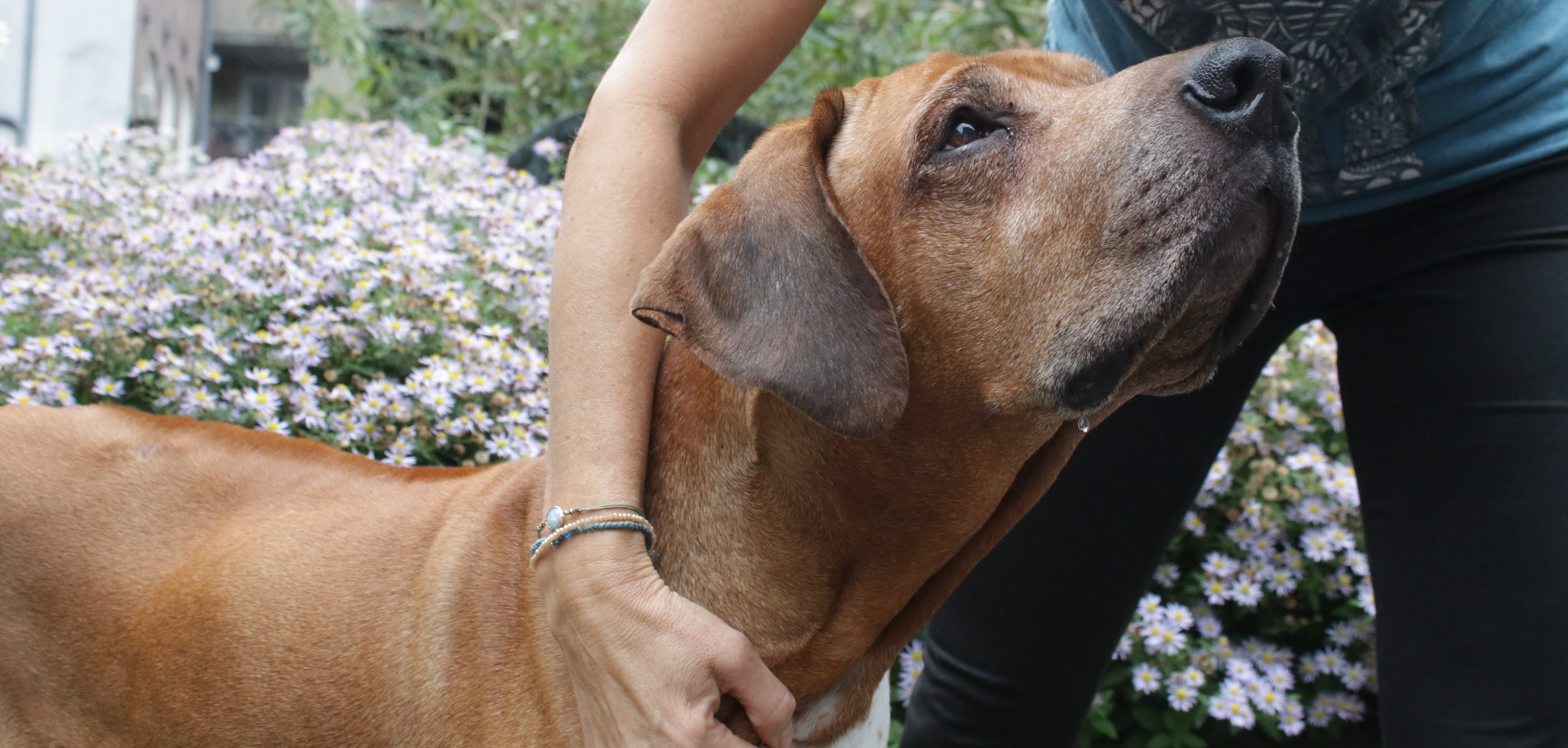 Terug